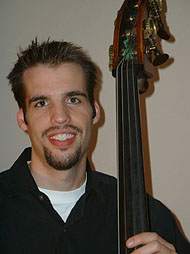 Tyler Abbott teaches double bass, jazz bass, and music theory at the University of Oregon School of Music and Dance in Eugene, Oregon, and has taught at Walla Walla College and Willamette University. He maintains a private teaching studio in Eugene, Oregon.  He maintains an active performance schedule as an orchestral bassist, chamber musician, jazz bassist, clinician, and soloist, and has performed nationally and internationally with some of the finest musicians in both the classical and jazz music worlds.  He has recently performed with, or is a member of, the Eugene Symphony, Oregon Symphony, Aspen Festival Orchestra, Oregon Bach Festival, Spokane Symphony Orchestra, Oregon Festival of American Music's "American Symphonia," Eugene Opera Orchestra, Yakima Symphony Orchestra, Oregon Mozart Players, Salem Chamber Orchestra, and several other professional orchestras throughout the region and country. As a chamber musician, he has performed with the Oregon String Quartet, Chamber Music Amici, Pacifica Trio, Beta Collide, Aspen Contemporary Ensemble, Orli Shaham, Sharon Robinson, Vladamir Feltsman, Jamie Laredo, acclaimed contemporary soprano Lucy Shelton, and Hundreth Monkey, a contemporary ensemble based in Eugene, of which he was co-director.
As a jazz bassist, Tyler has performed with Steve Wilson, Ben Monder, Randy Porter, Roswell Rudd, Danilo Perez, Billy Childs, Chris Botti, Dave Pietro, Scott Wenholdt, Billy Kilson, Nancy King, Marcus Whitfield, George Mitchell, Arnie Caruthers, Ryan Keberle, Randy Halberstadt, Dick Hyman, Howard Levy, Warren Rand, Tom Grant, John Stowell, and many others. He performs regularly in jazz festivals and on radio broadcasts and has performed with a touring Broadway show. His recording with Toby Koenigsberg, Sense, was released on Origin Records and was met with favorable reviews in several publications.  Tyler has presented master classes at several universities and high schools, and presented at the 2011 International Society of Bassists Convention in San Francisco, CA. His playing can be heard on the soundtrack to the documentary Fly Away Beetle, released in 2011.  He performed on Hashem Assadullahi's project Pieces (featuring Ron Miles, and also including James Miley, Justin Morell, and Ryan Biesack), to be released in 2012.
Tyler studied double bass with Roma Vayspapir (former principal bass of the Leningrad Philharmonic), Bruce Bransby (former principal bass of the Los Angeles Philharmonic), Jeff Bradetich (international soloist and pedagogue), Don Hermanns (Oregon Symphony), Lynn Seaton (Professor of Jazz Bass, University of North Texas), Dave Captein (Portland-based freelance jazz musician), Ken Baldwin (former assistant principal of Oregon Symphony), Curtis Daily (Seattle Baroque Orchestra, Portland Baroque Orchestra), Eugene Jablonsky, and has studied briefly and/or participated in master classes with Hal Robinson, Edgar Meyer, Al Laszlo, and Eugene Levinson.  He traveled to Gorizia, Italy to study with Christina Hoock, bass professor of the Mozarteum in Salzburg, Austria.  He attended the Aspen Music Festival and School for five years and attended the Atlantic Music Festival, where he was the only fellowship recipient on bass.
Reviews: